Skills
Skills¶
The Skills tab gives you general information about your skills.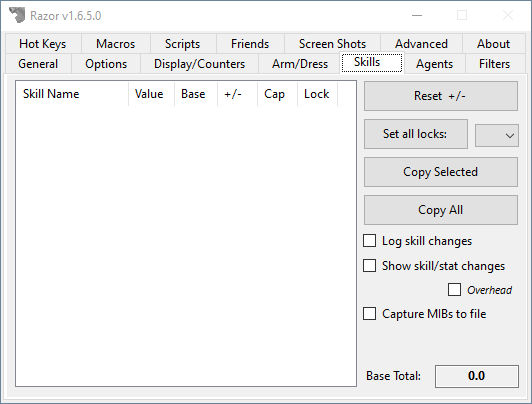 Skill Table¶
Skill Name

This will list every skill in the game.

Value

This is your skill level before stat modifiers are applied.

Base

Your skill level with stat modifiers applied. Also known as the 'Show Real' skill level. Use these numbers when calculating skill caps.

+/-

This column shows any change in skill level since you logged in, or used the reset button.

Cap

The skill cap for each skill.

Lock

The lock setting for each skill. 'D' for down, 'U' for up, and 'L' for a locked skill.
Other¶
Reset +/-

Resets all +/- column entries in the skill table to 0.0

Set all locks

Set the locks for all skills according to your selection from the drop-down tab.

Copy Selected

Copies the skill information from the selected skills to the clipboard. Click a skill to highlight it. For multiple skill selection, hold the control key and click all skills to be copied.

Copy All

As above, all skills are automatically selected with this tab.

Log skill changes

All your skill changes will be logged and timestamp into a .csv file in your Razor folder.

Show skill/stat changes

When checked, Razor will inform you of each skill level change, the change amount and the total change since the last +/- reset.

Capture MIBs to file

When you open an MIB, a file is written to the root folder of Razor.
Warning
This feature only works with the default RunUO MIB Gump.
Base Total

Displays your character's total base skill level.
---
Last update:
July 4, 2023